New Hampshire's Roofing Contractor
We are one of New Hampshire's favorite roofing contractors. With financing options available to fit your needs, Pro Roofers has the experience it takes to meet your roof replacement and repair needs.
Servicing Concord NH, Manchester NH, the Lakes Region NH, North Conway NH, and beyond.



Now offering 0% financing options!

No Payments, No Interest Up To 18 Months!
Contact our professional NH-based roofing team
1-Day roofing installations
Lifetime manufacturer's warranty
Metal roofing and asphalt shingle roofing
No payments, no interest up to 18 months
Roofing plans from just $97/mo. starting at $7995!
Welcome to Pro Roofers – the NH Roofing Authority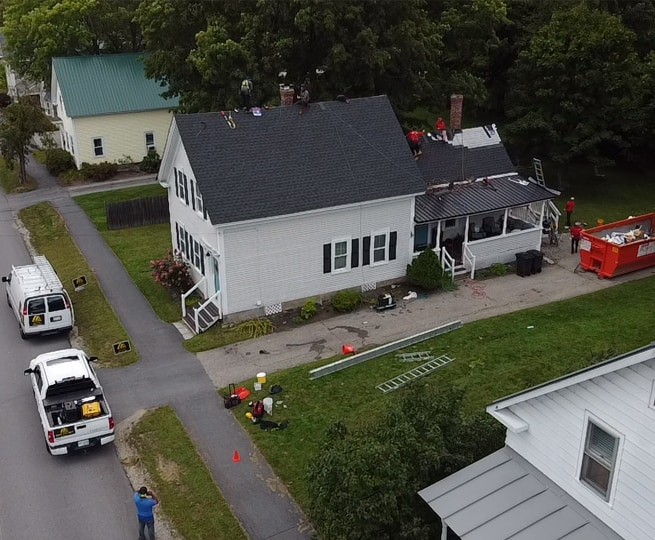 Our Mission
At Pro Roofers, we want to provide our clients with quality roof replacement and repair services throughout Southern and Central New Hampshire. We use top quality materials and have over a decade of experience in commercial and residential roofs. We stand behind our work and want to get the job done right the first time. We work efficiently to keep your roofing costs reasonable. We also offer easy access to financing for your new roof with flexible terms and reasonable rates. Plus, we're a GAF certified roofing contractor, so your full roof replacement comes with the GAF System Plus extended warranty for peace of mind. If you are in need of roofing repairs or replacement, contact us to get started!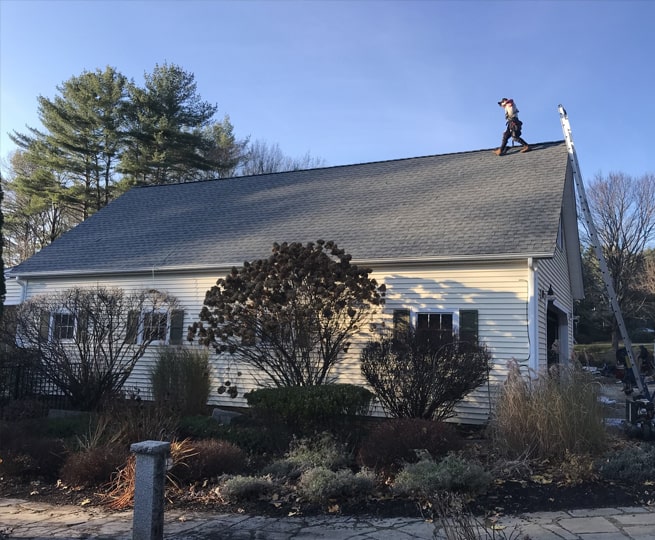 Our Services
At Pro Roofers, we provide high-quality roof replacement and repair services to homeowners and businesses in Southern and Central New Hampshire. We install many different types of roofs including, commercial flat roofs, metal, slate, cedar, and synthetic slate roofs. We also install seamless gutters and leaf guards, and we can remove and reinstall rooftop solar arrays for roof replacements. No matter what your roofing needs, we're here to help. We pride ourselves on our quality workmanship and customer service, and will work with you every step of the way to ensure you're happy with the final product. Contact us to learn more about our services!
Serving Concord, Manchester, North Conway, the Lakes Region and Beyond. What Sets Us Apart From Other Local Roofing Contractors?
We stand behind our work and have over a decade of experience in residential and commercial roofing. We are equipped with the right tools and have a team of professionals ready to meet your roof replacement and repair needs. Every roof we replace comes standard with an extended warranty from GAF, covering material and labor at no cost to you! This means more reassurance for you so that you can have the peace of mind you deserve.
If you're looking for a total roof replacement, a roof inspection, roof repair or just a general consultation, you've come to the right place.  Not only do we offer metal roofing and asphalt shingle roofing installation, we also offer roof financing programs to make the entire project more affordable.  This gives you the ability to get your roof replaced before your old roof becomes a problem, without having to part with lots of cash up front.
We are proud to serve Concord NH, Manchester NH, the Lakes Region NH, North Conway NH, the NH Seacoast area and beyond, and can't wait to help you with your new roof.
Our Ice Dam Protection
It is our standard for our roofs to offer more ice and water shield for ice dam protection. 
The Quality is Assured with GAF Shingles
We use GAF shingles, which we consider the best in the industry.
Warranty Protection
Every roof we replace with GAF shingles comes standard with a GAF System Plus Warranty. Leaving you with the peace of mind you deserve.
Our Promise
We take great pride in our work. Our goal is to get your roof done efficeintly to minimize disruption to your home and family while using top-notch materials. You can trust that our team of professionals will get the job done right while treating your home or business with respect and care. When we leave you the only thing left behind will be your beautiful, new roof. Contact our team to schedule a free drone inspection.

This is a very professional and thorough roofing contractor. Must hire if you are looking for someone honest that will make sure the right work is done. Hire a reputable roofer like Pro Roofer LLC. Our family is very satisfied with their service quality. Nick is best person for the work. I would highly recommend them. They're extremely professional and they know their business. Thankyou
See what our clients say about us

Nick's crew did a phenomenal job on this installation. As a business owner myself, I was very pleased to see the attention to detail. His crew worked quickly and efficiently and had this roof stripped and installed in one day and completed by 4pm. I highly recommend Nick and his crew!

Jay Kobzik, Customer
Nick was an absolute pleasure to work with. He was very honest with us after looking at the condition of our roof and provided a timely resolution to get it replaced. His team was incredibly efficient and got the job done in one day when others said it would take longer. Nick was also super competitive with his bid and met his promise to get it done when he said he would. We couldn't be happier with how it came out!

Nick Greer, Customer
Pro Roofers LLC are hands down one of the most professional and top notch roofing contractors you will find in NH! Nick's communication and willingness to work with me on my needed project was amazing. Nick and his team were on time, neat and did quality work. When my wife and I bought our house we used a 203k financing and Nick did everything on his end to make it happen for us. So, if you need roof work done, Pro Roofers are the ones to book!
Isai Pena-Cruz, Customer
Pro Roofers did a fantastic job on complete re-roofing of my home! The job was done on time, the crew was hardworking, fast and courteous and the cleanup was great. I was most impressed with the project manager, Nick, who delivered everything promised. He personally inspected the work to make sure everything was done correctly, which was important to me. I had a very good experience with this company.
Selliy Enna, Customer
I had a tree fall in my house recently and ended up needing a roofer for an estimate for the repairs. I called a hand full of contractors to get estimates. Most of the contractors did not call back, but Nick from Pro Roofers called back within an hour of my call. Nick was great through the whole process and came out the next day to waterproof the roof so I wouldn't have leaks. Nick got me scheduled for a complete roof replacement quickly and made the whole process easier. The crew finished the roof in a day and did a great job. There was no mess and no issues. I would recommend this company and Nick to family and friends.
Jordan Smith, Customer